Due to the design of the IDE/SATA HDD that using mechanical components, the life span of the HDD is not long, probably 3 – 5 years, depending on working environment. Below is some of the symptoms when HDD is going to fail:
Strange noises from HDD
Computer is slowing down / Slow Access Time
Frequent freeze
Computer crash/ Blue Screen of Death
Corrupted/Disappearing data
Computer stop recognizing your drive
The Windows version of the Data Lifeguard Diagnostics utility can perform drive identification, diagnostics, and repairs on a Western Digital FireWire, EIDE, Serial ATA, or USB drive. In addition, it can provide you with the drive's serial and model numbers.
To use the utility:
1. Download Windows Data Lifeguard Diagnostics. You may need to extract this using an extraction utiltiy such as WinZip.
2. Run the program, windlg.exe. If you're running this under Windows 8, 7, or Vista, you will need to Right-click on the windlg.exe file and select Run As Administrator.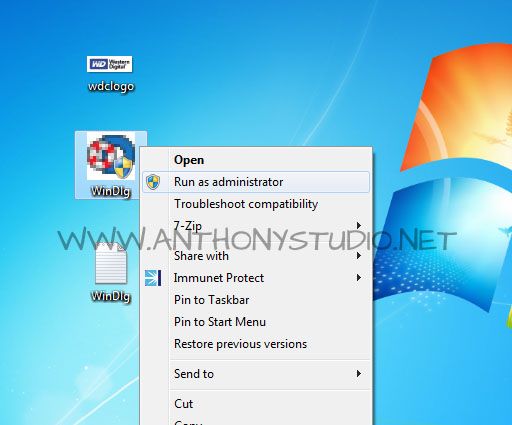 [adsense]
3. Read and accept the license agreement to continue.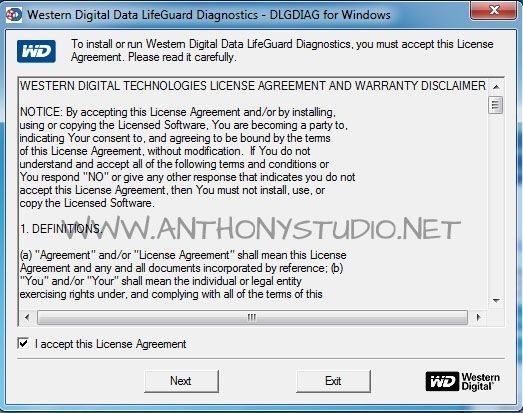 4. On the main program screen, there are two windows. In the top window, you will see the drives in your system that are available for testing. The model number, serial number, and capacity of each drive will be displayed. In the bottom window, the partition information for the selected drive will be displayed.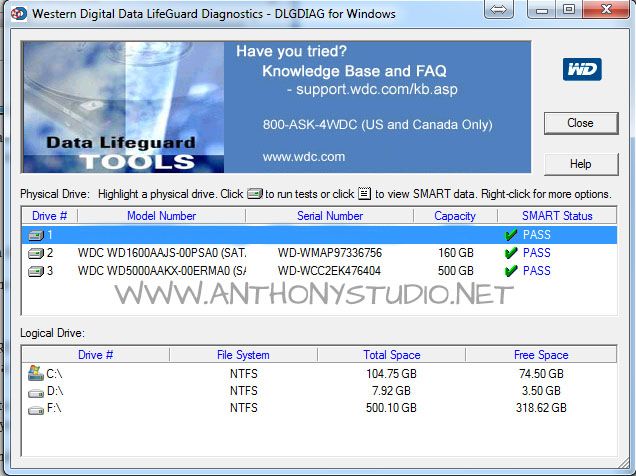 5. Double-click the drive to be tested in the top window.
6. The DLGDIAG – Select an Option window appears.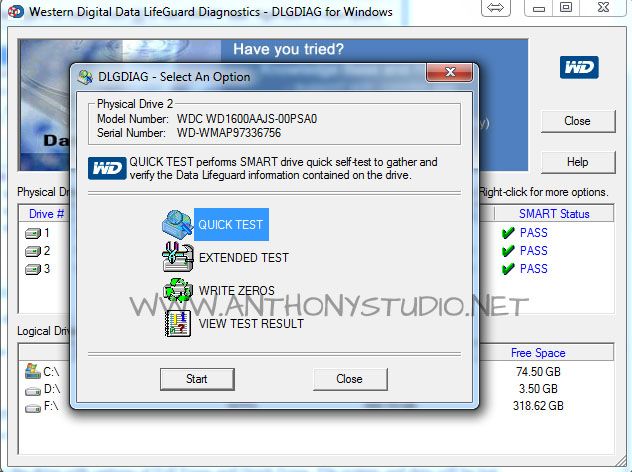 [adsense]
7. You will see the following options:
QUICK TEST – performs SMART drive quick self-test to gather and verify the Data Lifeguard information contained on the drive.
EXTENDED TEST – performs a Full Media Scan to detect bad sectors. Test may take several hours to complete depending on the size of the drive.
WRITE ZEROS – writes zeros to the drive with options of Full Erase and Quick Erase. File system and data will be lost.
VIEW TEST RESULT – displays the latest test results.
8. Select the test you wish to perform and click the Start button.
9. When the test completes, you will be notified. Click the Close button.
10.  A web page will display the test results for the drive.
* The hard drive might fail/faulty without any S.M.A.R.T warnings. Thus , the best way is to backup your important data regularly.
Most of the HDD manufacturer provides diagnostic tool to test their drives.
Seagate/Maxtor HDD – Seatools
IBM/Hitachi HDD – WinDFT
-via LifeHack–
-via makeuseof–