Phottix Mitros will do everything you expect a top-of-the-line TTL flash to do. Functions include built-in IR triggering with Master and Slave modes, AF assist light, auto/manual zooming flash head, all with fast recharge times. The Phottix Mitros TTL Flash includes a USB port for firmware upgrades and a 3.5mm sync port. The Mitros has a guide number of 58/190 (at 105mm focal length, ISO 100 in meters/feet), which is the same as the Canon 580EX II. The Phottix Mitros flash offers power, fast recycling times and several triggering options.
[adsense]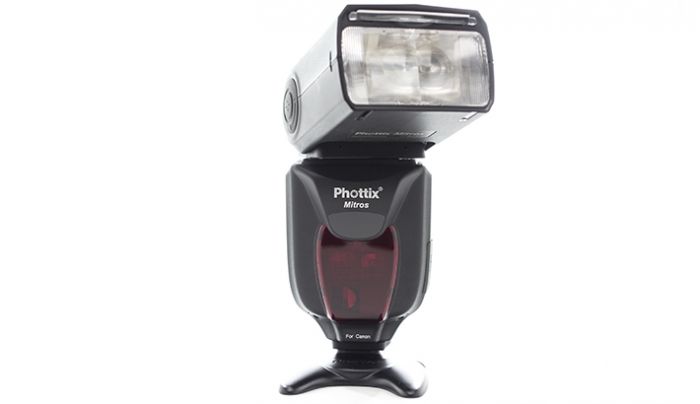 Features:
E-TTL, M, Multi (Stroboscopic) modes
Auto/Manual Flash Head Zoom with 180 degree rotation and 97 degree tilt
High Speed Sync and Rear Curtain Sync
Flash Exposure Compensation: Manual, Bracketed
Fast Flash Mode: with 0.1-2.5 sec. recharge times
USB port for upgrades
3.5mm Sync port
Canon-compatible IR Wireless Triggering with Master and Slave mode
Optical Slave Sync Mode
4 AA batteries
Port for external battery pack
Compatible with Phottix Odin TTL Flash Triggers for Canon
The set includes Flash, flash bag, 3.5mm to 3.5mm cable, usb cable, battery port adapter, flash stand, diffuser, and USB drive with manual.
Reviews about this Mitros:
– Fstoppers–
–DPReview–