WAP54G is Linksys access point. An Access Point is a radio transmitter/receiver that is most widely used to bridge wireless and a wired (ethernet) network. An access point only provides an interface/portal for wireless clients to connect to your existing LAN.
The WAP54G firmware must be upgraded from a computer directly plugged into your network with an Ethernet cable and not a wirelessly connected computer.  You can either connect a straight-through Ethernet cable from the WAP54G's LAN port to a computer's Ethernet port (configured with a static IP address), or have the WAP54G connected to a port on a network router, switch, or hub along with the computer that will be performing the upgrade (also configured with a static IP address).
Accessing the Access Point's Setup page:
Open a web browser such as Internet Explorer or Netscape Navigator.
Type in WAP54G's IP Address into the "Address" field (http://192.168.1.245 is the default IP) and click GO or hit the [Enter] key.
A "User Name" and "Password" prompt will appear.  Leave the "User Name" blank and input the WAP54G's password (admin is the default password) into the "Password" field then click the OK button or hit the [Enter] key.
Go to Status, check the current firmware version.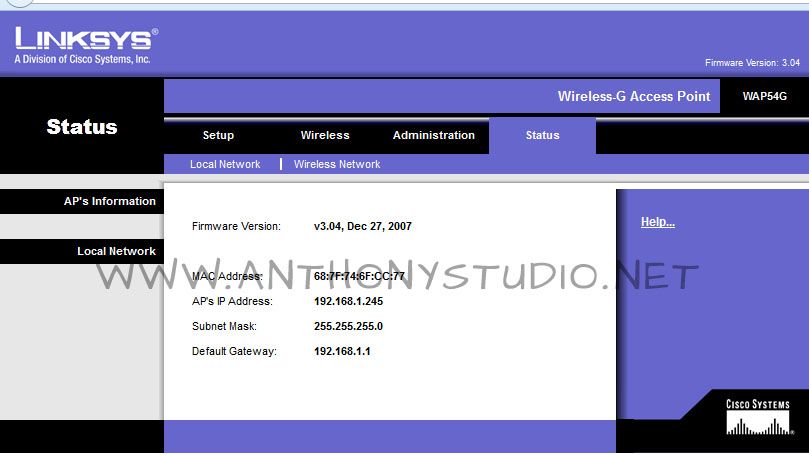 [adsense]
Once in the web-based utility, click on the Help tab, and then the Firmware Upgrade button.
The Firmware Upgrade window will open.
Click the Browse button next to the File Path box.
Navigate through your computer files and locate the .trx firmware file that was extracted from the downloaded Zip file (for example, LinksysWAP54G_fw2.07.trx).  Double-click the file.
The appropriate file path leading to the .trx firmware file will automatically be entered into the File Path box when the correct file is selected.  

[adsense]
Click the Upgrade button to begin the firmware upgrade.  The process may take a few minutes.  Be sure to not interrupt the procedure.
The up to date firmware is  Version 3.08.06 which is released on 2010.
Linksys, A Division of Cisco Systems, Inc.

Product:                WAP54G 

Classification:         Firmware Release History

Release Date:           03/22/2010

Last Firmware Version:    v3.08.06, Mar 22, 2010
__________________________________________________________________________
Version 3.08.06, Apr 06, 2010
- Fix: MAC address may reset to default after changing settings.
- Fix: While in client mode, device will re-connect to AP after connection drops.
- Fix: WDS does not work when wireless security is enabled.
- Fix: Correct wireless channel range in user interface.


- Fix: Debug page security vulnerability.
The firmware can be downloaded at below link:
http://downloads.linksysbycisco.com/downloads/firmware/1224638990369/LinksysWAP54G-Cisco-EU-EN-3.08.06.trx
or
https://www.beercandle.com/attachment.php?s=d489ffcd9d6ef1f349032de6e0bdb5a8&attachmentid=31983&d=1392132615
Note: I accept no responsibility for this. Update your product at your own risk. As far as I'm aware, version 3.08.06 is only for hardware revision 3.1 of the WAP54G and may not work on earlier releases.
Please follow and like us: